Muslin - a fabric that will win your favour
A muslin dress or a muslin baby bodysuit? We chose this substance because of its excellent properties, and we do not regret it at all. Read more about muslin.

You may have already encounter clothes made of this material, you just didn't know what it's called. Muslin is a very modern and sought-after fabric today. It is part of the slow fashion collection. However, dresses made of this material have been sewn for centuries.

What is muslin? 
Muslin is a 100% cotton fabric also called gauze or cheesecloth.
The muslin we used for our collection has Oeko-Tex® Standard 100 class 1 certification - so it is also suitable for the youngest children.

It is also described as one of the cleanest, simplest, finest and best fabrics in the world. It is named after the city of Mosul, located in present-day northern Iraq. Its origin dates back to the Middle Ages. It was brought to Europe in the 17th century. Contemporary women's dresses and veils were mostly sewn from muslin.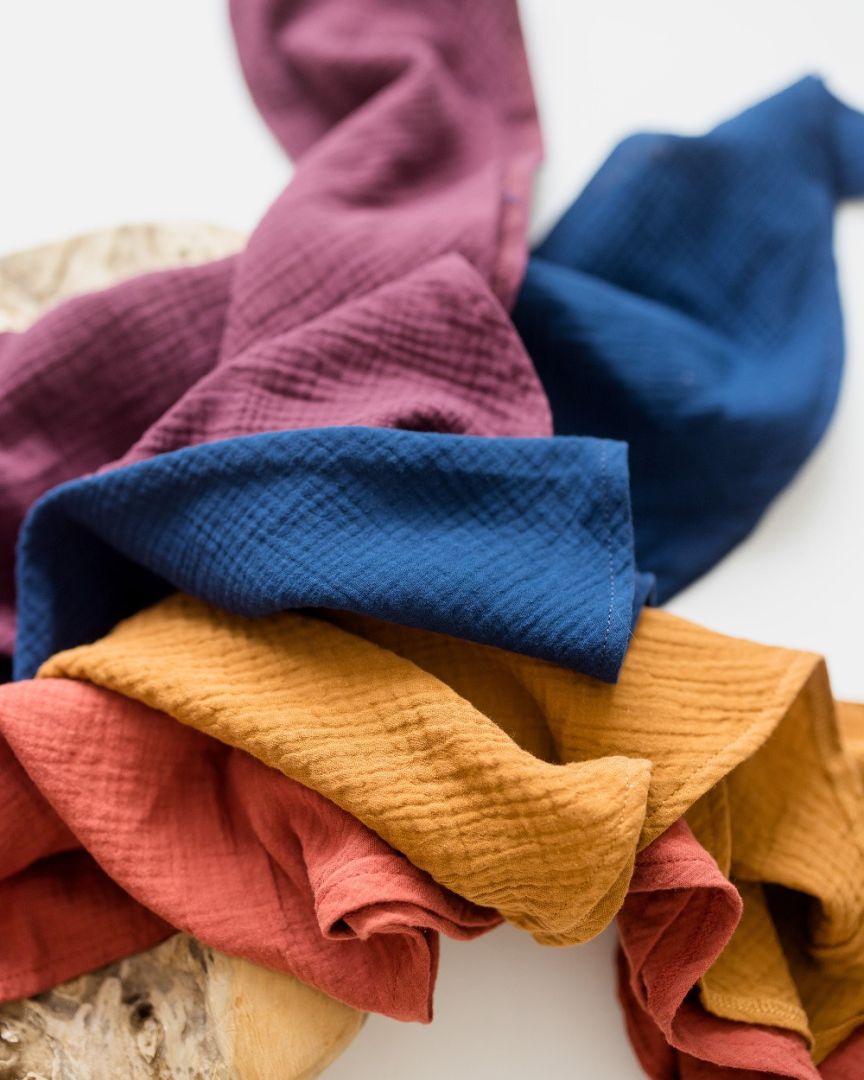 Why did we decide to sew a muslin dress?
We were passionate about muslin because of its properties. The descriptions of this material have long encouraged us to try it.

Do you think muslin dresses look crumpled? However, this property of muslin is natural.

Even moms appreciate it because they don't have to iron it :)

PURE collection - muslin dresses for children and adults
We have created a collection of muslin clothes in earthy colours for you. You can match with your daughter and enjoy the benefits of PURE muslin dresses. You can also match the father with son and buy them a quality muslin shirt.


Coastal collection - muslin clothing for the little ones
In the Coastal collection, we reached for soft colors and proven cuts. Muslin is an excellent material for newborns and small babies. In this collection you can find:

muslin wrapover body
trousers
comfortable overall, even for sleeping
muslin bib
practical muslin diaper
a big muslin towel


Peony collection - beautiful clothing for girls 
The Peony collection
is made of fine muslin in two pink colors, perfect for little girls for summer.
Breathable and light muslin, beautiful cuts, comfortable clothes.
Dress for every day and for festive occasions. The girls will not be warm in them and they will also be like princesses.
You can find here:
wrapover pink bodysuit for girls

pink muslin bodysuit with long sleeves and ruffles

pink muslin trousers

muslin bodysuit dress with long and short sleeves

muslin overalls for girls

girl's muslin dress with extended back

Mountain collection - practical muslin pieces for boys
In the Mountain collection, you will find really practical pieces for little boys. Trousers with suspenders, jumpsuits, and overalls are not just for the summer. The soft brown color or blue on children's muslin clothing looks very delightful. Such colors are very suitable for little children. Together with the fine muslin fabric, they create exactly the unique feeling that children's clothing should have. 



Our tip:
Muslin is used mainly for summer pieces of clothing. However, if the dress is part of more layers, the muslin will be pleasantly warm you even on colder days.